Madan
- Cartoonist & Columnist
...know him for over 20 years ...we pioneered illustrations in "Ananda Vikatan"... Excellent Illustrations... keeps a very low profile... Extraordinary Talent with a Catholic Approach... very original work... very aware of budgets... Like Picasso, he Can Create Art with Very Little and Very Ordinary Materials!!!
About V V Ramani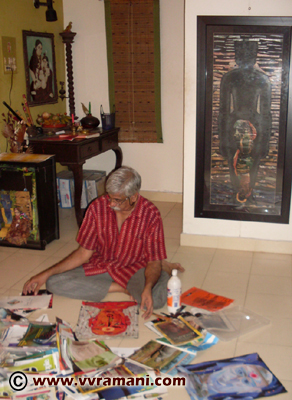 It all began once in a classroom in Chennai when a young student of art had no colours to work with. His teacher Mr. Alphonso asked him why he wasn't painting. He replied, "I don't have colours sir, so I can't paint." The teacher solved his problem in a minute. "So what," he said, "you have colourful papers, use them as paint and work." And he taught him how to make collages. That young boy, V. V. Ramani is now in his mid 50's and arguably the only artist in India to work solely on collages. Today he suits what Kark Kraus had said once, "Only he is an artist who can make a riddle out of a solution," and Ramani accomplishes this to perfection in his huge-sized collage creations.
V.V.Ramani is a Chennai - based artist from the Madras College of Arts and Crafts. He has been acknowledged for his versatility in various disciplines - paintings, murals, collages, designing for textiles, set-design for music/ dance stage, wedding decor, costume designing for dancers, teaching, dance and art based journalism. He is also a trained vocalist in Carnatic Music. Soaked in traditionalism, yet inspired and challenged by the Modern, Ramani's works are truly this, and much more. Ramani has held one-man-shows and exhibited in group shows. He has the unique distinction of being the only artist in this world to hold an exhibition of collages using cork as a medium of art.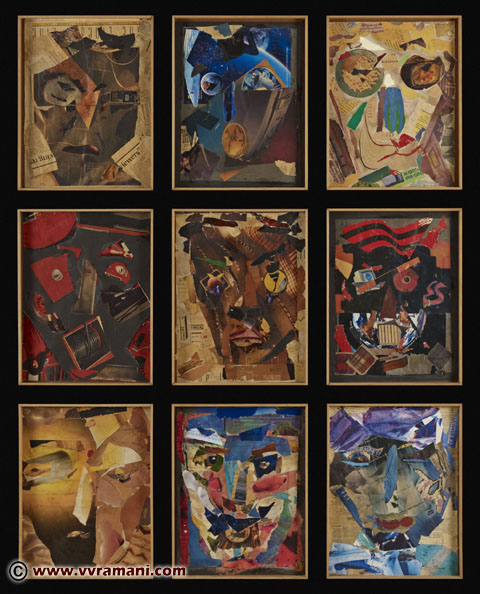 He is also a recipient of the state level award for collage - "Navarasa". His works are in the collections of the Government Museum, Chennai and private and corporate collections in India and abroad.
Says Ramani: "After working in different mediums, it was finally collage that challenged me. There were no boundaries, no lines, no limits-what was even more intriguing was to move beyond the school art pastime and thereby create compositions not out of small pieces which would form a mosaic pattern of an interesting work but to create an artwork out of existing huge images and make it more challenging. The challenge also lies in not just picking up a bottle of paint so readily available but to scan through volumes of books to find my colours."
Music has been an integral part of me that most of my works are born out of music. For instance , when I work on portraits of M.S. or D. K.P, I listen to their voicesand their music sinks into my work. While working on Krishna, I listened to Chaurasia, Balamma and various other Krishna based numbers. Likewise, my work "Madhushala" was created listening to the intoxicating voices of Rafi and Asha
Listen to Ramani sing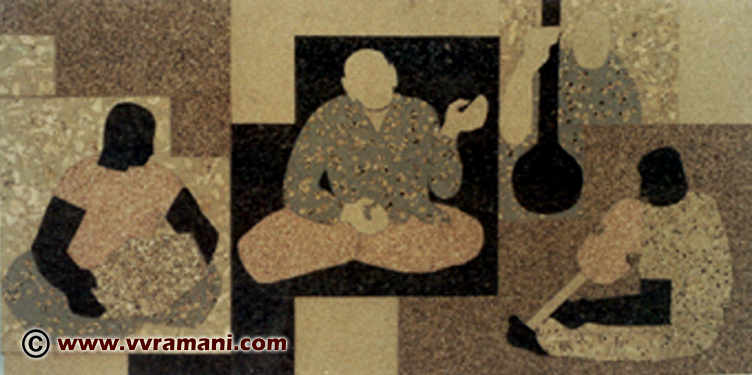 Public Collections:
Government Museum, Chennai
International Museum for Collage, Assemblage and Construction - IMCAC, Texas
Lalit Kala Akademi, Chennai
Crafts Council of India, Chennai

Corporate Collections:
Expertus, Chennai
Akshay Cadd Centre, Coimbatore
Chennai Mathematical Institute, Chennai
Private Collections:
In India and Abroad
Click here for a slideshow of collections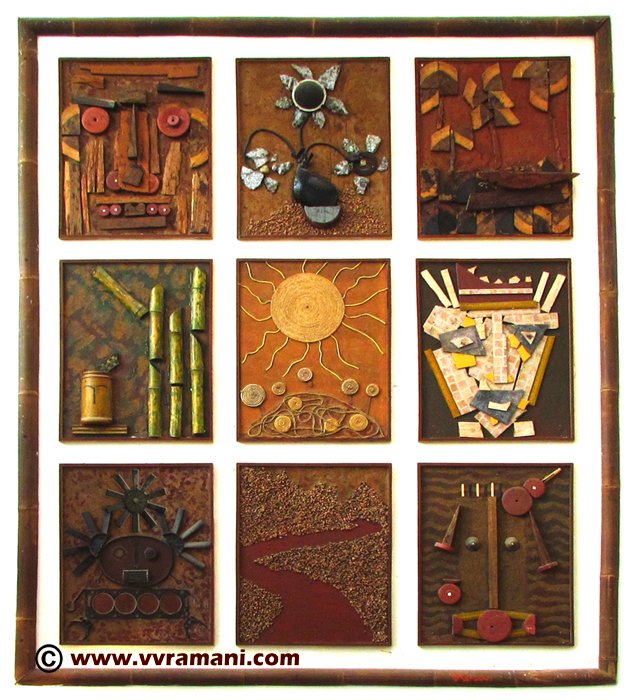 Murals:
Chaitanya Builders
Bio tech Park (M.S.Swaminathan Foundation)
Venkatraman and Co
Athena Health Care(Waterfall )
Chennai Mathematical Institute
Cork Industries
The Kodas
Sir Muktha Venkata Subba Hall
Designed shop spaces:
Blue's Power - Alsa Mall
Ushas Boutique